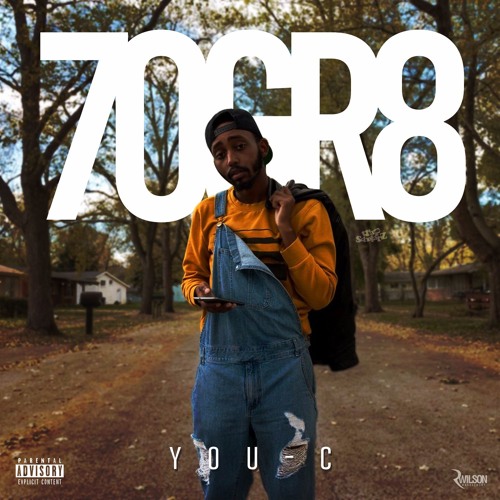 After teasing fans with a bunch unreleased freestyles, You-C has finally dropped his second EP titled "7-0-Gr8". On this EP, You-C isn't holding anything back, digging into personal accounts to share with the listener. "7-0-Gr8" is 7 tracks, plus a bonus track, filled with You-C displaying all his talents as a rapper; from crazy wordplay and lyricism to his impressive beat selection.
"7-0-Gr8" delivers a perspective through You-C, as a young man from the south suburbs of Chicago. On the song titled, "708 (Skit) /Root, Tres)" he brings us a monologue on the suburbs, providing the dynamic/relationship between the city of Chicago and Chicagoland areas. Growing up in the south suburbs of Chicago you struggle with being extremely close to Chicago but not exactly being "from" Chicago. You feel all the issues Chicago has, from violence to school budget cuts, but since you're from the suburbs people feel like those issues aren't as serious for you. Anyone from the 708 area will definitely understand You-C's perceptive throughout this project. Even if you aren't from the suburbs, you'll get a greater understanding of what it's like growing up in the 708.
If you don't know who You-C is, "7-0-Gr8" will definitely give you an idea of who he is, not only as an artist but a young 22-year-old man experiencing life. While being from the suburbs is the theme of this project, You-C still talks about a range of topics including relationships and sex.
"7-0-Gr8" should hold fans over until he releases his mixtape, "Music, Money, and Masturbation' in 2018. We're sure he'll release new music between then but in the meantime click the link below to check out "7-0-Gr8".
Follow him on Twitter; @doyoucme3
Written by Jai Barnes