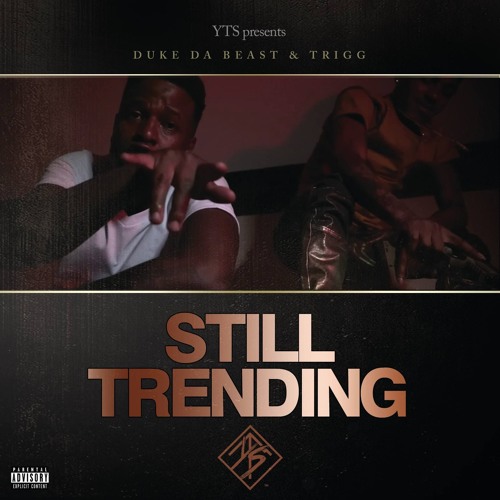 The introduction to Duke Da Beast for CCHH happen in early 2015, setting up an interest in the music, filled with anticipation. At first glance, you set him as a Drill rapper, but that type of boxing in would definitely be warranted for first time listeners. While many of his song rely on bounce of the production, his raps doesn't always focus on a catchy chorus, but lines that grab the attention.
In 2015, he had a busier year to the one that followed, dropping two mixtapes, which were "YTS 2" and "Unprepared". We became more familiar with the Yung Trend Setter brand, got a taste of the energy presented through the raps, and if I'm not mistake he took his talents to the west coast. Back in November there was talk of continuing the "YTS" mixtape series with a part three, during the Trump's election, possibly as a joke. But here in the now we get a new project where he teams up with a artist by the name of Trigg. While we don't know much about Trigg, leading up to this project we heard him on the song/video for the single "Decent".
The project kicks off with the track "On Dat". Its a major way to start the project, something that brings the energy, that's laced with a catchy "I be on that" line. Duke and Trigg successfully trade lines back and forth, switching out as though they were a tag team. The production for this track was a great pick, with drums that surely kicks in the speakers. What follows is a song that builds, produced by CashMoney AP. This one remembrances on street life and financial gains, for a song appropriately titled "Stack It". Things kinda switch, a bit of a slower tempo but with the hard hitting production for some braggadocio raps on "Damn".
By the track "Gang" we kinda get an idea of the production sought after. If you thought the beginning of the project brought a lot of energy, then by the song "Gang", the ignorant level of bass is turned up to the max. Pretty familiar with Duke Da Beast's raps, Trigg has moments where he could have distinguished his voice a bit more, but he brings his own style separate from Duke throughout the mixtape especially on "Decent". On the song "Money Today" there a bit more reliance on the catchiness of a hook, with Trigg kicking the track off, rapping of his monetary ambitions, this one is not one my favorite tracks of the project.
Trigg and Duke end the project off with what I would describe as 'strip club record', called "All Night". Its not a super strong ending leading up to it on the last couple of songs before, but these two kept the energy of the mixtape in tune for a pretty cohesive project. This collaboration project brought two elements, alot of rapping combined with some good hooks, that makes it great for multiple different settings. Whether you're riding in car for a stereo test. at a live show, or just looking to chill with friends for session, this project would be clear fit.