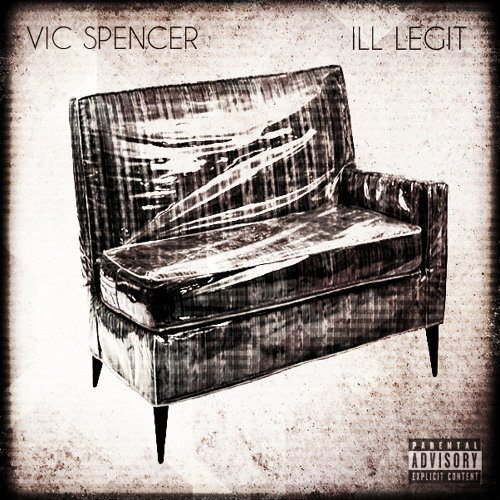 When there's too much conformity, where we seek protection under wraps, you can always a expect a disruption of your comfort. Vic Spencer and Ill Legit are here to do just that with a new collaborative album called "Plastic On Couches". Vic Spencer continues to team up with artist he has close ties with who equally are dropping lyricism over Hip Hop beats.
Ill Legit is an emcee, producer, and audio engineer, who shown have a versatile rap ability. Vic Spencer is the rapper's rapper, with the unconventional flow who seems to have endless bars. Together we get a 12 track project full raps on top of raps, with the classic Hip Hop production throughout.
Joining the two are Black Ralphy'L, Sulaiman, The Dutchmaster, Black Matt, D Brash, JR Blac, and Nathan Knew. Handling the production are, Ill Legit, IKAZ, Def Liva, Eddie Mon$sta, Rhom The Beat Traveler, Senbeatz, Tony Baines, Lake Affect, BlacMarket, Irate Genus, and The Dutchmaster.
"Grown Folks Rappin", this is the song that kicks of this collaborative project. Its one for the big boy listeners of lyrical spitting. The titled alone reminds me of a time in the younger days where a parent would tell you "be quiet when grown folks talking". Vic and Ill are your father's and all competition are their children. This hook-less track is produced by Irate Genius, who provides multiple continuous drums sound combined with a menacing sound elements that can stir up a calmer crowd.
For this track, Black Ralphy'L joins Vic and Ill on "The Killing". Vic Spencer's flow is a little more laid back as he references the producer of track saying, "make music with France niggas". Ill Legit comes with his usual dropping bars, aimed at the fakes. Black Ralph'L brings a little more energy, kicking off the track and setting up the scene, "This that kill, murder, that def shit you never heard of, killing shit with out a motive, working like I got a quota". The rapping is good and IKAZ provides a prime Hip Hop back drop, but the ringing element can get very annoying after multiple listens.
"Tanqueray" gets production credit from Ill Legit and Vic Spencer. This track is a lot smoother than the previous, due to the sampled melodic voice throughout the song. This is one proves to be such a fluid track as these two emcees glide through this beat.
Tranquil vibes filled the song, titled "Glorious Chapters", that features Sulaiman. Ill Legit handles the production, hitting the ears with smooth horn and mellow drums beats. There's a Jazz feel to this one and the bars these three are rappers are dropping are still hard as ever. Vic Spencer step on the competitors with 'Jack and the Beanstalk references, Ill Legit tells us why he's better, and Sulaiman gets skillful saying, "I told the law I'm too sexy, they couldn't catch me or cuff me, the crook rocking six rabbit feet was never this lucky".
Over slowed production from the Dutchmaster, who also drops a verse, Ill Legit and Vic Spencer are testing the competition's resolve, egging you on to jump with a "you don't really what this problem" attitude. Ill Legit comes with speedier raps while Vic Spencer rides the tempo of the production and handles the chorus. The Dutchmaster stands out on the beat but not much else.
Team work make the dream work, something evident across this project but truly on "Plain Trippin". Ill Legit and Vic Spencer trade verses back and forth like tag team match. Black Matt jumps in like a surprise third member hiding up the ring, bringing his raspy voice to end the track. This is a song that you could ride to, or better yet park the car let the windows down and turn the sound to the highest volumes.
"The Situation", featuring D Brash and Jr Blac, get production from Lake Affect. The beat is a horn fill rumble of music elements, a least favorite of this backdrops' back drops. The horns and tings of the beat fill the ears the majority of the time but the best part of the production is the switch up of the drums at that end the song. "Considered the Mr. Marcus of rap", Vic spits a interest reference of a well know adult film star.
The "Old.Folks.Family" or "Off", is the eighth track and another classic hip hop back drop, which is provided by producer BlacMarket. The basic concept of the song is a theme we've seen Vic Spencer touch on, whether it be through music or social media, ones age in rap. Not knowing how old Ill Legit is, he's son-ing the younger rappers as well.
The funk induced song and horn plus snares of the drum accompanied by the bars that Vic and Ill are dropping, bring this song to life. Senbeatz produced this one, which, like all of this project, is another sound credited to that classic time in rap. The recurring 'age' thing returns for this track as well, and the two emcees drops plenty lyrics to quote in this two minute forty second track.
"Had Enuff", produced by Tony Baines, Ill Legit delivers to let us know he's tired of the barkers with no bite. Vic Spencer follows up to wake up those who are sleeping on him. Ill handles the hook in between verses to connecting it all together.
The rugged flowing Nathan Knew joins Vic and Ill for "Lords". Track 11 holds some greater production of this project, mostly because of the quiet boom of the beat and claps, which is handled by Def Liva. Nathan holds his own and shines on this verse with the cramming of syllables that have you pausing to got back.
Production from Eddie Mon$ta closes the project out and rightly so. This is a gritty track builds tensely, "They listen to me religiously, like I make sermons", Ill Legit begins the onslaught of rhymes. No Hook needed on this beat, as Vic Spencer jumps right in with his brash style.
Over the course of this project Vic Spencer and Ill Legit bring to the listener what we know them for, rapping their ass off. We get some alright beats and some great production. Vic Spencer continues to find new bars to pull from his brain and Ill Legit demonstrates his raps are not to be overlooked. There's no secret as to what you will expect from these, hip hop beats, confident bars aimed at other rappers, and plenty head nodding music to vibe with. At times though, a couple songs did start to seem repetitive. If you're not looking for that pure Hip Hop sounds its probably not for you but should give it a listen anyway, these boys can rap.